The Zoe's Place Business Group
The Zoe's Place Baby Hospice Business Group was formed in November 2015.  Businessmen and women from across the region have joined together to not only help raise funds towards the £1.4 million running costs, but also to raise its profile, engaging more people in and outside of the workplace to help make a difference.
In the eight years since the Zoe's Place Business Group was formed, huge strides have been made not just in terms of boosting the coffers, but also in raising the profile of Zoe's Place amongst the local business community.
The highlight has without doubt been the three balls held, organised by the group which have been a tremendous success thanks to Coombe Abbeys incredible support and to the charity's Patron Lady Daventry and Ambassadors Brian Travers and Rosie Day, who have given their time so generously.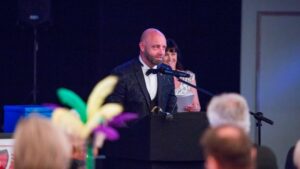 Plans for this year's Gala Ball have now been confirmed, taking place at Coombe Abbey Hotel on Friday 17th November!
Peter Jarvis, Chair of the Business Group and Managing Director of Warwick based Contechs commented: "We have been truly blessed with the level of support we have received; however, we are not complacent.  Each year the hospice faces new challenges in its continuous bid to keep its doors open 24/7.
"Zoe's Place plays a vital role in our community – in many cases serving as a lifeline to the families it services and it is crucial that we all continue to pull together to support the excellent work Zoe's Place does.
"The Business Group is only as good as its people and newcomers are always welcome.  We are very much looking forward to the next year and to both Zoe's Place and the Business Group reaching new heights."  
To get in touch, and join the thriving Business Group, please email: