Thumbs up for new Zoe's mascot!
Published date: 12 September 2023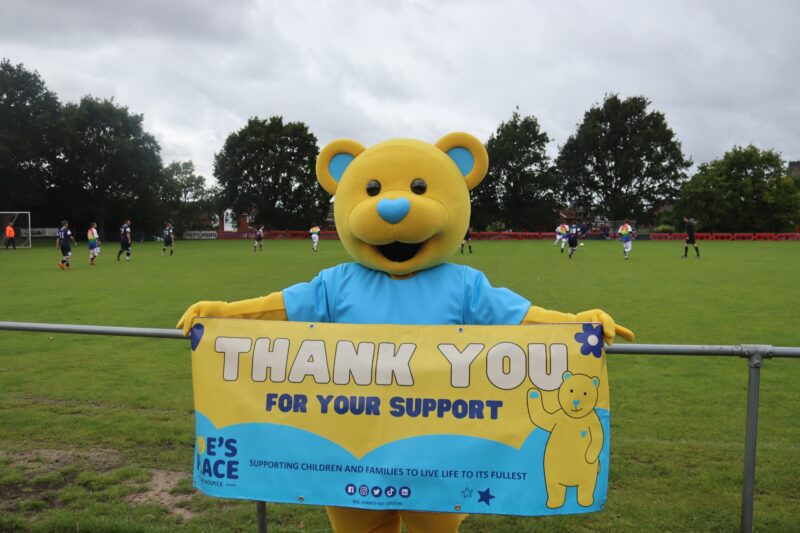 Coventry
Hospice news
Liverpool
Middlesbrough
The new Zoe's Place bear recently made its first public appearances in Coventry, Liverpool and Middlesbrough, the home of the 3 only baby specific hospices in the UK.
Zoe's Place is proud to introduce its adorable new mascot, who has been spreading joy and happiness in Coventry, Liverpool and Middlesbrough!
Coventry city centre welcomed our new mascot with open arms, as it took to the streets to make its debut at the Coventry Half Marathon launch. The bear even had the special honour of being photographed inside the iconic Coventry Cathedral. Children and onlookers couldn't contain their enthusiasm as they met our mascot, who brought smiles to all who crossed its path!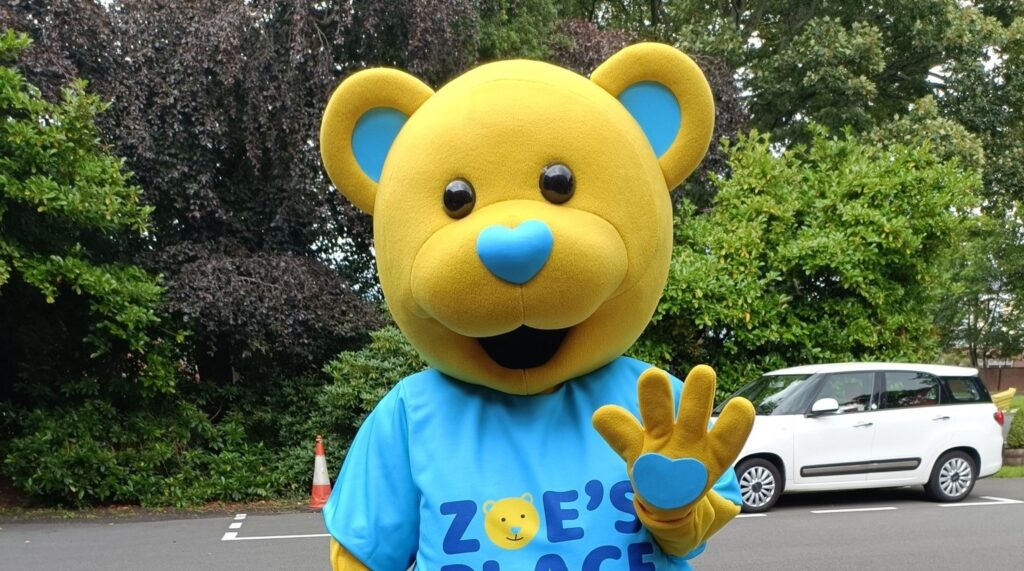 Harman, Community Fundraiser in Coventry said: 'It's fantastic to be able to show our new bear at the launch of such an anticipated event for Coventry. The response was overwhelmingly positive and the bear was an absolute hit on the day.'
Zoe's Place Coventry are proud to once again be a charity partner for the Coventry Half Marathon, if you're interested in taking part in the challenge, Zoe's Place have secured exclusive FREE charity spots. You can find out more information and register for a place here.
In Liverpool, our bright bear made a special appearance at a charity football match – Rainbow Toffees v Military Minds FC. The bear captured the hearts of children, football fans and the local community. The mascot cheered on the teams and joined our long-standing volunteers to help raise funds for our hospice.
Paul Hession, who manages merchandising and events for Rainbow Toffees, has supported and helped raised awareness for Zoe's Place for many years at various events. As part of Rainbow Toffees, an Everton FC fan club, he now sells rainbow Everton pin badges with profits being donated to the hospice, from this he has managed to raise almost £2,000!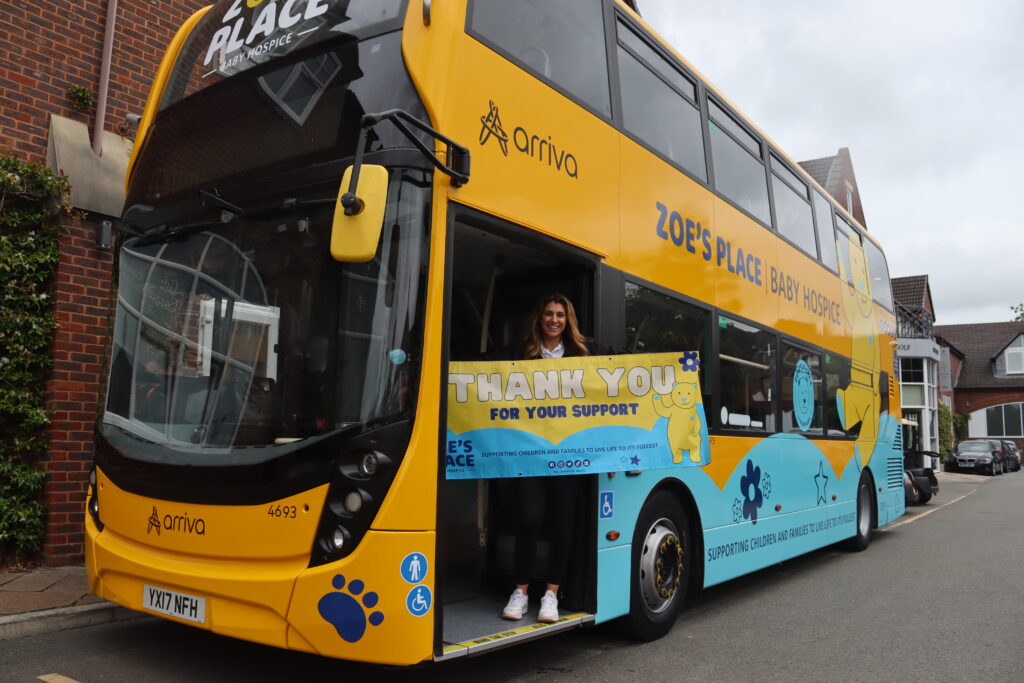 The new brand has taken over Liverpool and passengers throughout Merseyside have the opportunity to board our bright yellow Arriva bus, which is raising awareness of Zoe's Place Baby Hospice! Arriva has supported Zoe's Place for more than a decade but this year Arriva has pulled out all the stops with the newly designed bus to celebrate the vital work Zoe's Place does and the newly launched brand.
Phil Cummins, reginal engineering director for Arriva, said, 'It's a key value for us at Arriva that we make a difference and it's great to see the difference we make each year by supporting a charity that does such important work for children and their families. I also hope that passengers who perhaps aren't aware of Zoe's Place see our big, bright bus as they travel and take a moment to look them up and support them.'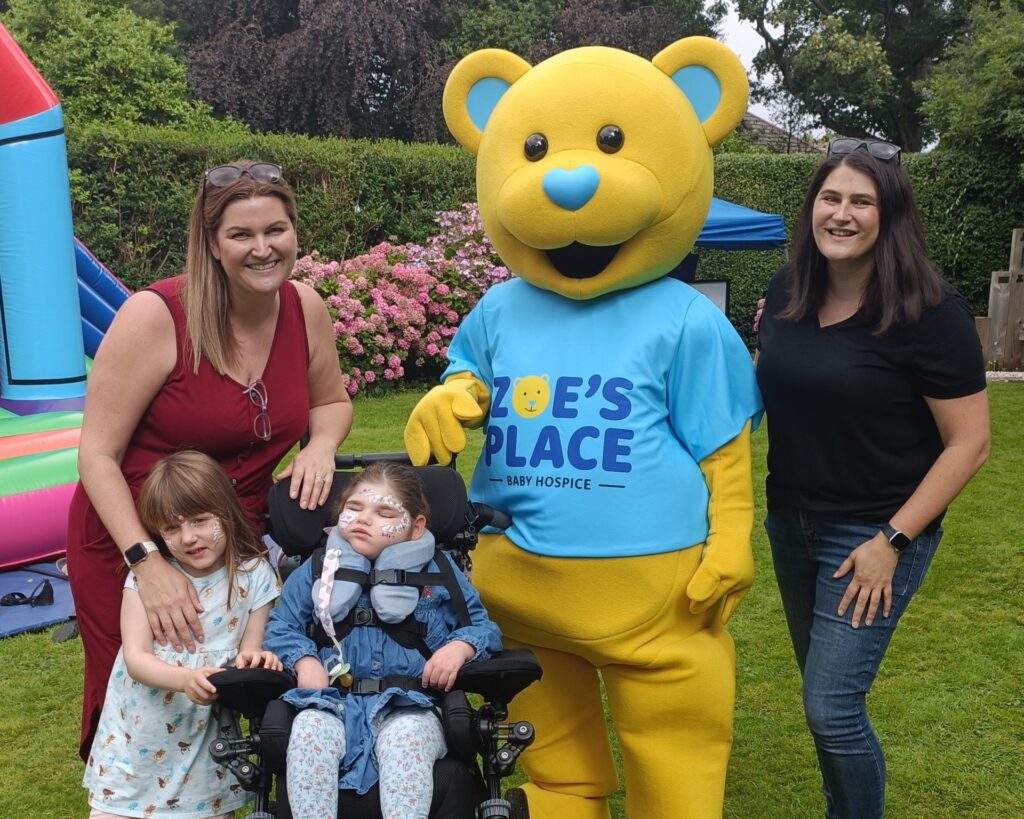 Middlesbrough experienced a day of joy and celebration as the hospice hosted a garden party for parents, children and siblings. Our new bear had the pleasure of meeting the parents and children that we support and even got a chance to meet Barbie!
It was a great atmosphere and the mascot got to dance with our dedicated staff and volunteers, creating memories that will last a lifetime.
Acting Head of Care Ashleigh Rickards said: "We love it when families come to our annual garden party, and having a new mascot there really topped it off. It was brilliant seeing him dance with the children and get them all involved in the celebrations."
Back to News