This Christmas, your donations can provide care for children with life-threatening and complex needs.
Zoe's Place supports children with life-limiting and life-threatening needs and their families to live life to its fullest. Despite being a hospice, we do much more than end of life care, with therapies and respite being a huge part of our services.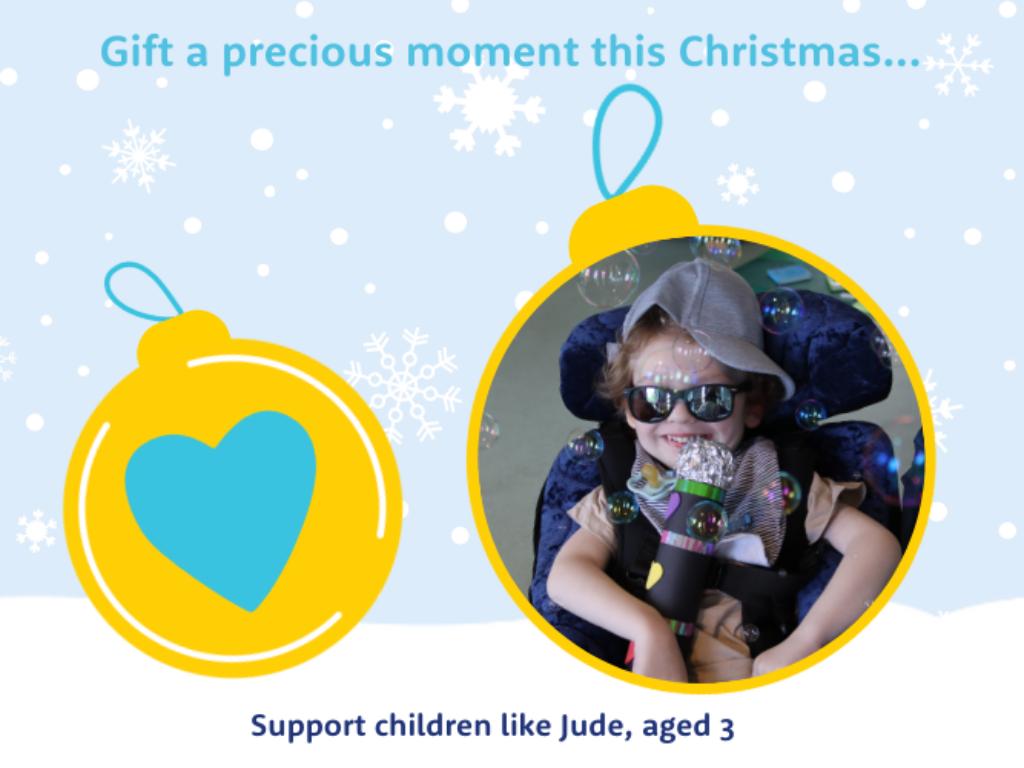 Support children like Jude, aged 3.
In the spring of 2020, Eberley welcomed her son Jude into the world. What started as a seemingly ordinary pregnancy soon took a heart-wrenching turn.
Getting the diagnosis
Eberley recalls, "From about six weeks, I knew something wasn't right, but because it was Covid it was really hard to get an appointment anywhere. At about 11 ½ weeks Jude started having seizures and after getting rushed to the hospital in an ambulance he was eventually diagnosed with a rare genetic condition. Only 370 children in the world have it, and it effects his muscle tone, vision, and communication."
Jude's diagnosis brought with it a profound shift in their daily lives. Eberley shares; "Day to day life for us is very different, some days are great and others are really hard. Looking after Jude is challenging, there's lots of things we have to do like his feeds and medicine, and because he can't communicate we have to guess what he'd like to do."
The reality
Sleep is a luxury for Eberley, who cherishes even a few hours of rest. She admits, "If I get 4-5 hours of broken sleep a night then that's good for me, don't ask what I run on because I don't know!"
Jude's condition also impacts his older brothers, especially the youngest, who worries deeply for his little brother. Witnessing Jude's struggle has left a lasting mark on their family. 
"I realised they actually know my son in the same way that I know him."
Life at Zoe's Place
In January 2022, Jude found solace at Zoe's Place. Eberley confesses that leaving him for the first time was incredibly difficult. "It was hard at first to leave him, you worry whether anyone will be able to care for him as well as you will, but the hospice really feels like a home away from home. You walk in and feel like it's safe, and that was the most important thing for our family."
Over the past year, Jude has thrived at Zoe's Place. The hydro pool is a particular favourite, offering Jude not just therapy – but moments of pure joy. Eberley beams, "He absolutely loves coming to Zoe's Place, when he hears the doorbell in the porch he gets a big smile on his face."
During a critical period in Jude's health, the nurses at Zoe's Place stood by Eberley's side, offering unwavering support and attending multi-disciplinary meetings. "I realised they actually know my son in the same way that I know him, and when things are deteriorating, they offered their voice along with mine."
The impact of Zoe's Place
Zoe's Place also extends its care beyond Jude. Eberley emphasizes the impact on the entire family. "When Jude is at Zoe's Place I'm able to be an actual mum, rather than a medical mum. I get to spend time with the boys, which is so needed."
Siblings of children with complex needs often face their own unique challenges. Zoe's Place provides them with crucial opportunities for connection and fun, offering a sense of belonging and understanding. 
Eberley's voice brims with gratitude, "Without Zoe's Place our lives would be very different, they are an extended family to us…It's just so much more than a hospice to us, so much more."
You can make a difference
This Christmas, as you reflect on the power of giving, consider how you can gift a precious moment to families like Jude's. Your support can make a world of difference, offering respite, joy, and cherished memories during challenging times. 
Click on the bauble to go to our Just Giving page and donate to help keep our hospice open! It takes £1.5 million a year to run Zoe's Place Coventry and we rely solely on the kindness of public donations.