Wing Walk
March 1 2024 00:00 - October 31 2024 00:00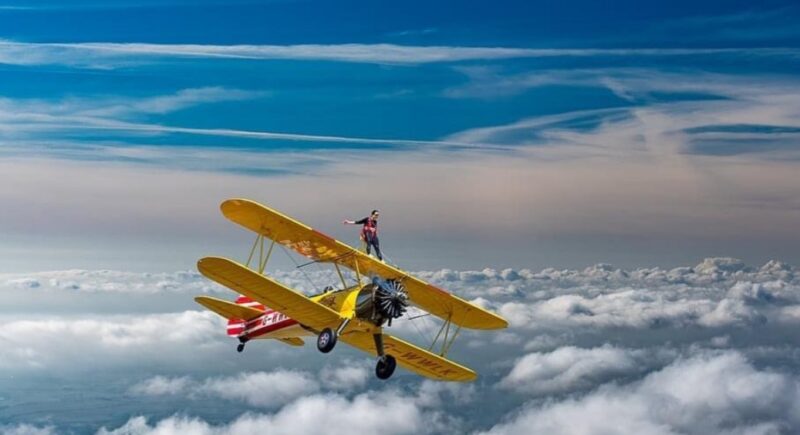 Challenge/Fitness
Coventry
Solo Wing Walk
Date – Available between March – October 2024 (Weekdays Only)
Location – Cirencester/Gloucestershire Registration fee – £50
Minimum Sponsorship – £800
Formation Wing Walk (for 2 people)
Date – Available between March – October 2024 (Weekdays Only)
Location – Cirencester/Gloucestershire         Registration fee – £100
Minimum Sponsorship – £2500

Create the memory of a lifetime and take to the skies in 2024 for an adrenaline-fuelled experience for Zoe's Place! 
With Aero Super Batics, the Wingwalking experience will see you fly on the top wing of a 1940's Boeing Stearman biplane. You will be guided by a professional Wingwalking Team onto the top wing – once strapped in, and after an 'on wing' briefing, you will be ready to go!
Even better, why not pair up with a friend or colleague taking to the skies together?
All your nerves will disappear as soon as those wheels leave the ground!
Validity
Your booking will be valid for 12 months from the date full payment is received.
Please note you must have booked and taken your experience before the expiry date.
Participant guidelines
Minimum age: 18
Maximum height: 6ft 2in
Maximum weight: 14 Stones
Maximum waist measurement (including clothing): 40 inches (102cm)
Participants must be able to climb unassisted to the top of the aircraft
Participants must meet all of the health requirements (epilepsy, previous head injury, fainting, fits, any disease of the brain or nervous system, high blood pressure, heart or lung disease, weakness or dislocation of any limb, weakness or injury of the neck, diabetes, mental illness, drug or alcohol addiction)
Spectators are welcome. Please mention when making your booking if you intend to have more than 10 spectators
The experience content, equipment used and restrictions may vary according to location
Availability
This experience is available on selected weekdays throughout the season (from March to October).
It is advised you book at least four to six weeks in advance to ensure that dates are available. All bookings are subject to availability.
You can expect to be at the venue for at least 3 hours, your flight will last 8 to 10 minutes.

Back to Events