Everton Stars Anthony Gordon and Tom Davies visits our hospice for Easter…
Published date: 1 July 2022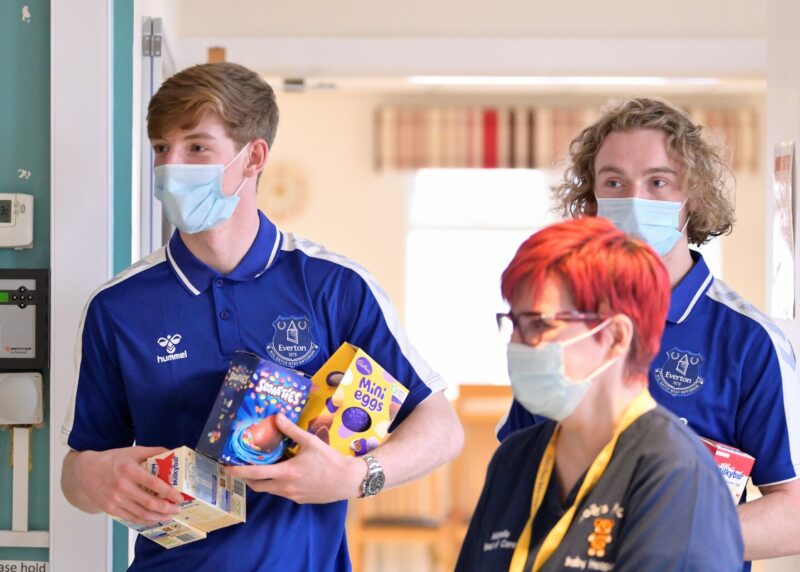 Hospice news
Liverpool
Press release
On Tuesday 12th April 2022, Everton FC Stars, Anthony Gordon and Tom Davies visited Zoe's Place again, this time with a special Easter delivery. 
At Zoe's Place, we care for babies between the ages of 0-5 who have life limiting or life-threatening conditions, and so it is important for us to try and make as many special memories as we can for our families, this visit enabled us to create an unforgettable day for our babies and their families and also our staff. 
Anthony and Tom delivered and handed out Easter eggs for our babies, their siblings and families. Our families got to chat, received fantastic signed personalised picture cards and got to pose for lovely family photographs with the players.
It was wonderful to be able to invite Tom and Antony back to our hospice, for the first time since Covid restrictions were put in place, and it meant so much to everyone who attended.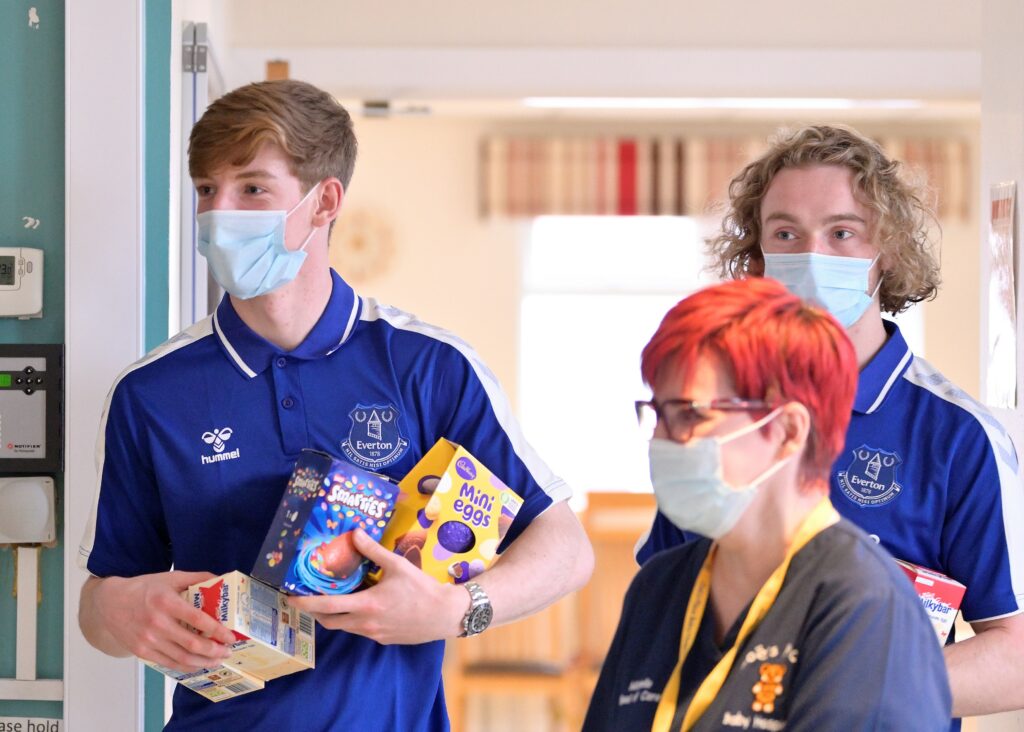 Anthony and Tom spent time with the children and families, and also met staff.
Anthony Gordon said: "It's wonderful coming here, it's the second time me and Tom have done it, we see the kids, spend some time with the families, and hear their stories. It's incredible what the kids go through, how strong they are, and their families also. We spent a bit of time with the kids and with the staff too, who do an amazing job here. The response has been great, [the children] have been so loving and warm, and everyone is so welcoming here."
Tom Davies added: "I think that the work that they do here is fantastic. For everyone involved, it's just a such a very loving and caring place for the kids to come to, and for the families to get some rest. It's also close to where I grew up, and the work that they are doing here touches my heart.
We brought some Easter eggs to wish everyone here a happy Easter, and just to see some of the kids, which is great for them too, to see a new face. We try and bring a bit of fun and energy to the place, and the kids do too! It's great to see them and to see all the staff, and how hard they work, and wish them a happy Easter."
Michelle Wright, Head of Care at Zoe's Place said:
"It's just fantastic for the children and their families, it just means the world to them, it really lifts them up, and just shows the support for Zoe's place.
"Our families go through a lot every day, looking after children with complex needs, and what we try and do is provide a bit of respite support for them, during difficult times. It means the world to get visits like we've had today, and the support from Everton Football Club, and we thank them very much."
Watch the video from the special Easter visit here.
We would like to thank everyone at Everton for their visit and we can't wait to invite you back.
The links between Everton and Zoe's Place are also set to continue, as Everton in the Community, in partnership with PSS, is now working with Zoe's Place on the 'Starting Well' project, which provides support for expectant and new fathers from across the Liverpool City Region.  
The free service is open to expectant dads, from conception through to birth, and for those with children aged two and under. The programme also welcomes single dads, bereaved dads, adoptive and foster dads. Dads can sign up and enjoy activities based around engaging their little one, including sensory and music play, and important baby advice such as learning about common illnesses, healthy eating and weaning. The programme will also support dads and their partners' physical and mental wellbeing.
Back to News