Liverpool cathedral abseil
July 29 2023 14:30 - July 29 2023 16:30
Date – Saturday 29th July 2023
Location – Liverpool Anglican Cathedral
Registration Fee – £35
Minimum Sponsorship – £100
Are you looking for a challenge?
What about a once-in-a-lifetime kind of opportunity to climb to the top of one of the most iconic buildings in Liverpool and then scale down the outside, taking in all the sights of our beautiful city as you go?!
Experience the thrill of abseiling off the UK's largest Cathedral. Descending 150ft, free hang from above the ground, helping to raise vital funds for the babies and infants we care for!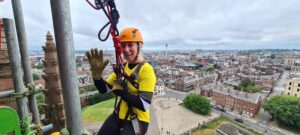 Back to Events