This Christmas, your donations can provide care for children with life-threatening and complex needs.
Zoe's Place supports children with life-limiting and life-threatening needs and their families to live life to its fullest. Despite being a hospice, we do much more than end of life care, with therapies and respite being a huge part of our services.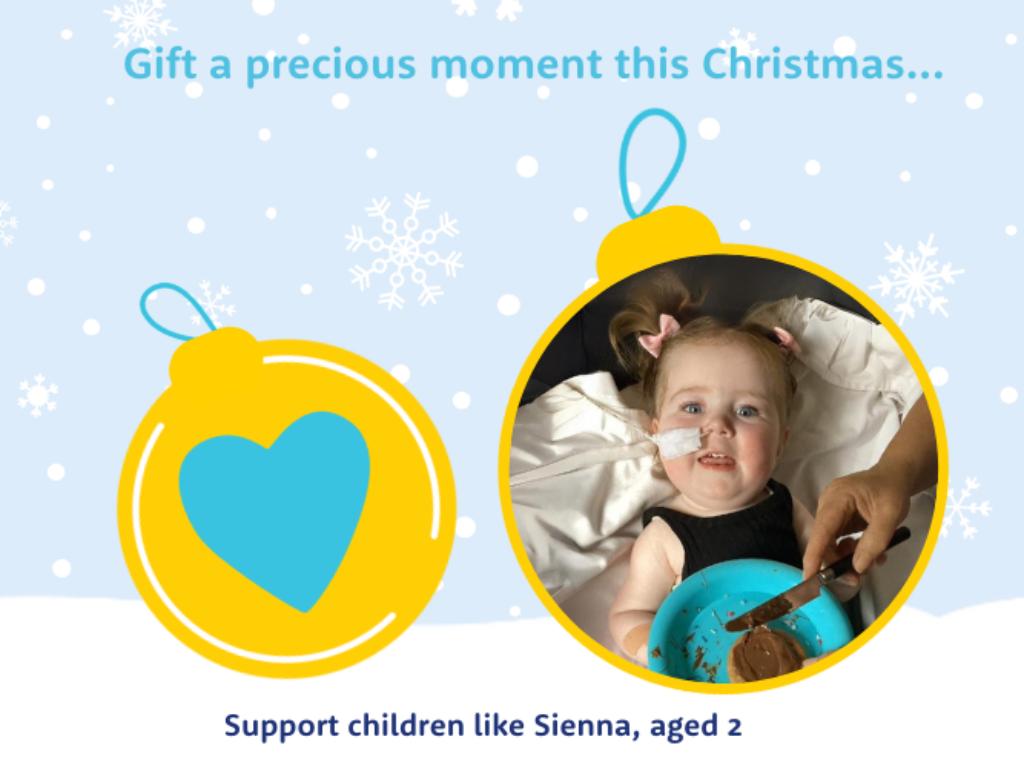 Support children like Sienna, aged 2.
Imagine being told your 6-month-old baby has just another 18 months to live. That's the unimaginable reality parents like Sienna's face. 
Heart breaking diagnosis
The diagnosis of spinal muscular atrophy, a condition weakening her muscles, came as a shock for Sian who gave birth to her baby daughter Sienna in November 2021.  The doctor's confirmation of the most severe type of the condition, Type 1, cast a shadow over how long she would live, with doctors predicting a lifespan of only two years. In the face of such a grim prognosis, Sienna's family showed incredible courage.
Treatment
They decided to try a trial treatment, reserved for infants with the most severe cases. It was a significant risk, but one that paid off as Sienna is defying the odds.  Her mum Sian shared her thoughts with the team at Zoe's Place: "Her life expectancy is still unknown, but we're hoping the new treatment gives her the fighting chance she needs to live longer. She's coming up 2 years old next month and she's getting stronger and stronger – especially with her physio. Without the treatment she may not have survived until now. We're just grateful for every day."  
The impact on the family
 No family should have to navigate such a heart-breaking journey alone. Getting out and about with equipment and medicine becomes a huge task. The fatigue of caring for a very sick child adds another layer of struggle. It's in this immense challenge that Zoe's Place Baby Hospice steps in.   
"We
can't
just nip to the shops.
That's
why being able to visit Zoe's Place is such a lifeline for us all. Especially Sienna."
Zoe's Place
Here, a dedicated nurse-led team attended to Sienna's complex needs, providing not only medical care but also a sanctuary of comfort and fun.  Sian shared: "Sienna has been going to Zoe's Place for a few months now. It was daunting to leave her at first. But now I don't worry at all. Her days are full of fun, and it's one of the best places for her. I couldn't ask for more, she has access to amazing equipment, a sensory room, toys, activities and round the clock care."  
The support Zoe's provides gives a short break to life at home, where every moment is centred around the specialised care Sienna needs. The daily routine includes tailored physio sessions and a multitude of essential machines. Sian added: "Everyday life is full on, but you adapt to a new way of living. I wouldn't change her for the world, but it can be hard work. She has chest physio, nebulisers, and lots of machines around the house to help her out. So, we can't just nip to the shops. That's why being able to visit Zoe's Place is such a lifeline for us all. Especially Sienna."  
The future
As Sienna celebrates her 2nd birthday, she has defied the odds. And she isn't just surviving; she's thriving. The uncertainty that once clouded her future has given way to a brighter horizon. At Zoe's Place, Sienna is supported to experience the childhood her family never thought possible.  
You can make a difference
This Christmas, as you reflect on the power of giving, consider how you can gift a precious moment to families like Sienna's. Your support can make a world of difference, offering respite, joy, and cherished memories during challenging times.
Click on the bauble to go to our Just Giving page and donate to help keep our hospice open! It takes £1.5 million a year to run Zoe's Place Middlesbrough and we rely solely on the kindness of public donations.