World Animal Day – Animal Therapy
Published date: 4 October 2023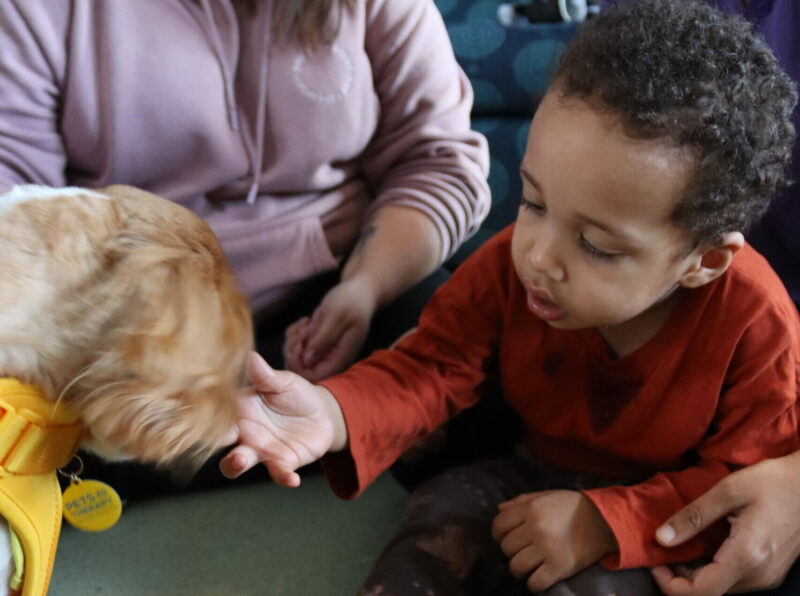 Coventry
Hospice news
Liverpool
Middlesbrough
World Animal Day is an important celebration at Zoe's Place. Animals have a special place in our hearts within our hospices where we support children and their families to live life to its fullest.
Many of the families we support aren't able to do normal family activities, such as go on dog walks or take regular trips to the farm together. Due to medical supplies, oxygen tanks and specialist equipment requirements, sometimes the things that families do weekly, or even daily are unattainable to the children we support with life-limiting and life threatening conditions.
Animal therapy at Zoe's Place
At Zoe's Place Baby Hospice, we provide interactive monthly animal therapy sessions with trained handlers with nurses on hand to support children to interact with animals they'd not normally have an opportunity to come into contact with.
The benefits of these pet therapy sessions on the children at Zoe's Place is huge! Children can handle, pet, groom, watch and play with a range of animals from insects to a donkey ride round the gardens. These monthly sessions reduce stress and anxiety levels for both the children and their families, as well as providing emotional support. According to UCLA Health animal therapy helps people to relax, lowering their blood pressure and heart rate. The animals provide important comfort and companionship for the families who deal with life-limiting conditions. Animal therapy is just one of the therapies we provide to support children and their families to live life to its fullest.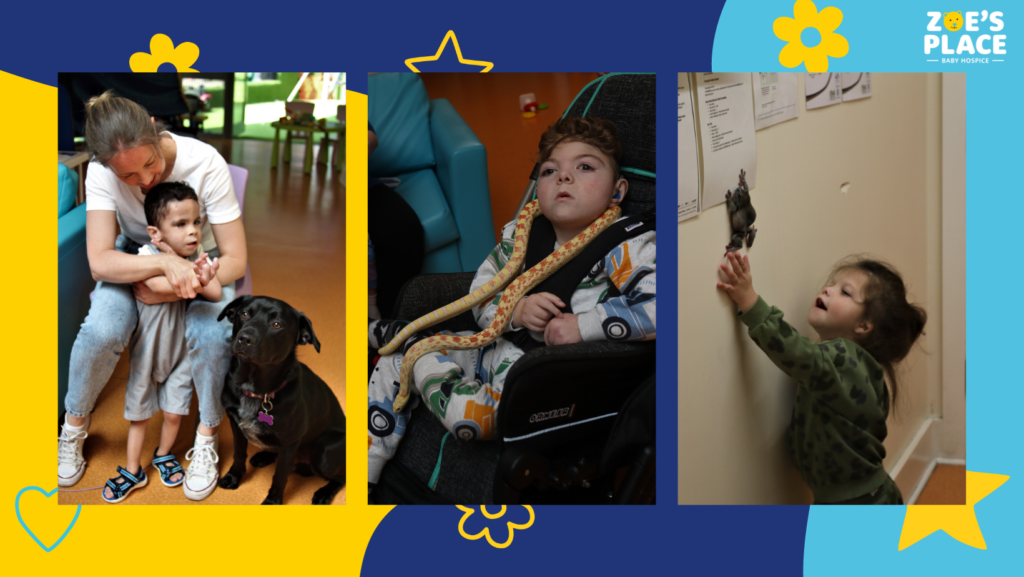 Coventry
In Coventry, Dale from Critterish Allsorts provides the animal assisted therapy sessions for Zoe's Place Baby Hospice. With over a decade of experience and a zoo of exotic animals, Dale is loved by all the staff and children here. The bonds with the animals are quickly built and grow each month there's a session. Although, we love all the creatures that visit us, even some of the children have favourites including Wubble the frog, George the tortoise and Rum and Raisin the ferrets!
Liverpool
In Liverpool, a lovely local couple visit who are registered with "Pets as Therapy" and they bring their dog, Buddy. Interacting with animals can teach children empathy and compassion, as well as helping to develop motor skills, social skills and emotional regulation.
Buddy has helped some children to overcome fears and Buddy is now part of the Zoe's Place team, helping to brighten the lives of the children and families that we support.
Middlesbrough
In Middlesbrough, we have many specialists that provide animal therapy such as Crazy Creatures and Zoo Lab. They bring in rabbits, spiders and snakes which the children love spending time with! Caremark are a dog company that bring in different canines which the children enjoy stroking and playing with.
Dale, from Critterish Allsorts, who works at the Coventry branch, said "the animals help the children in so many ways, the frog has helped children with brain issues, headaches and high temperatures due to the cooling effect of his body on their head – the cold frog absorbs the "heat" of pain and will reduce swelling at the point of contact. Some children take to different animals, dismissing furry animals in favour of our scaley friends. In short the inclusion of Animal Assisted Therapy in the care of the children brings a welcome distraction, calm and pure unconditional love to their hospice stay".
We are so grateful to be able to offer this support to the children that visit our hospices. When you support Zoe's Place you are enabling us to offer childhood experiences and opportunities that children and their families want to do, but their life limiting conditions may prevent.
If you are able to donate to our cause, and empower us to support families and children to live life to the fullest please click the donate button above!
Happy World Animal Day from everyone at Zoe's Place!
Back to News